ISBM to Host Aperture for Early-Stage Innovation Webinar
Ryan Laudermilch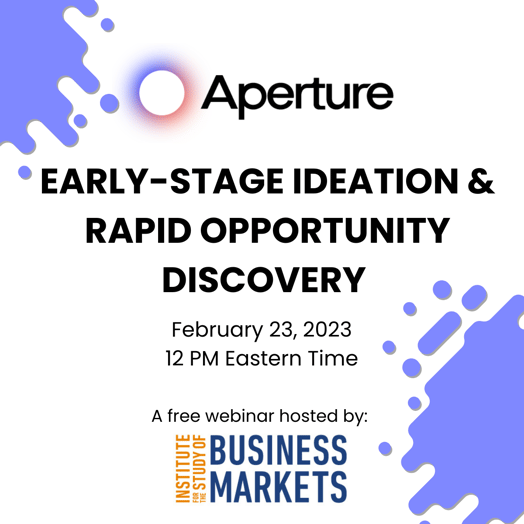 Please join Aperture for an upcoming webinar on Early-stage Ideation and Rapid Opportunity Discovery for Industrial Companies, hosted by the Institute for the Study of Business Markets (ISBM).
Industrial innovation is inherently a risky endeavor as long product development cycles, rapidly changing market dynamics, and regulations can change well before a product makes it to market. For that reason, finding the right problem to solve at the front end of innovation is a critical component for long-term portfolio success. Innovators and marketers need to ensure their organizations have a robust pipeline of relevant opportunities they know 1) are important to the market and 2) their organizations can act on.
In this webinar, Aperture will discuss proven processes and AI-powered techniques to rapidly build opportunity pipelines, test hypotheses, and guarantee product development pipelines will achieve the desired level of organic growth. We will introduce tools and methods for defining capabilities and domains of interest, surfacing important problems, identifying, and evaluating potential opportunities, and surfacing critical assumptions and next steps via several example client questions and datasets.
Aperture will be talking through real examples and data on emerging technology topics such as carbon capture, the hydrogen economy, and others.
Date: Thursday, February 23, 2023
Time: 12:00 pm Eastern (US)
Registration: ISBM Webinar Registration