Innovation Opportunities in

Carbon Capture, Utilization & Storage
Instantly uncover the key players, technologies, and unmet needs in this fast-growing market. Leveraging AI + human analysis of millions of scientific, industry, and news sources, we help you find actionable opportunities faster than ever.
What Are SpacesTM?
---
SpacesTM are curated datasets focused on surfacing the unmet market needs in important and fast-changing market areas, explorable in our web platform. Built by analyzing >100M diverse data sources, we boil the ocean so you don't have to.
With SpacesTM, your team can surface data-driven opportunities for innovation and growth 100x faster than current approaches.
Innovation & Marketing
Identify promising new areas for strategic product and market development

Research & Development
Focus R&D where your technologies overlap with customer needs

Consulting & Journalism
Rapidly understand the challenges and what matters in complex and fast-moving areas

Company Intelligence
Identify, analyze, and monitor the companies working on areas most relevant to you
As an example, Aperture recently created a custom SpaceTM on the topic of carbon capture, utilization, and storage (CCUS), which involves a broad group of technologies used to collect, reuse, and store carbon from either emissions or ambient air to reduce the impact of greenhouse gases.
Carbon capture refers to processes that extract carbon and includes technologies such as pre-combustion and post-combustion carbon capture, oxy-fuel combustion, and direct air capture. Carbon utilization involves technologies for leveraging the captured carbon in downstream products, such as the conversion into ethylene for fuel production. Carbon storage, or sequestration, focuses on the long-term storage of carbon and includes technologies such as geologic carbon storage, oceanic carbon storage, and carbon-enhanced oil recovery (EOR).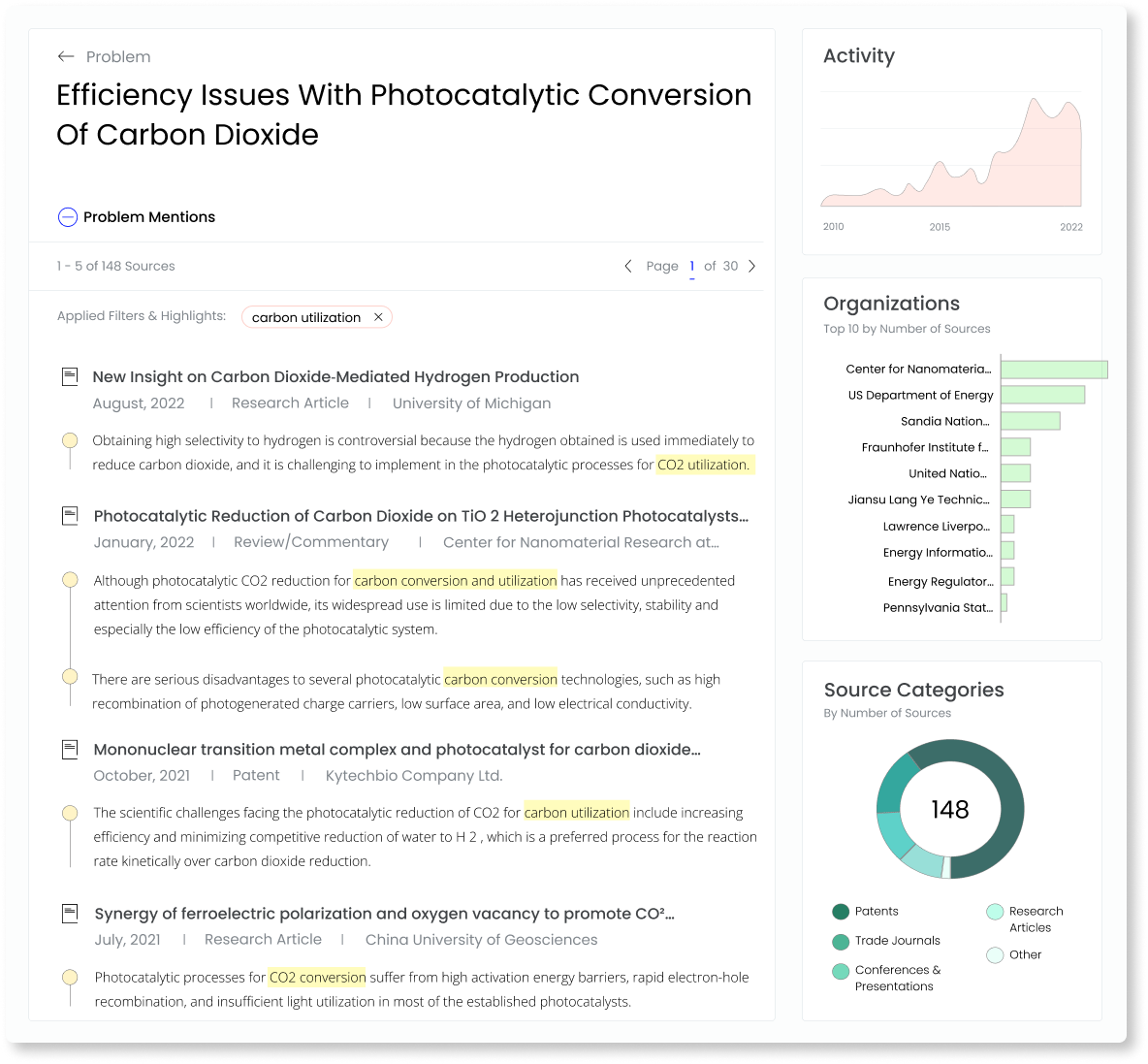 Industries and sub-industries
Systems, components, materials, and other technology topics
Profiles summarizing the key problem "themes" - based on AI-powered analysis and clustering of the underlying problem text
Companies, universities, government institutions, and other organizations
Source publications, including patents, scientific journals, trade journals and industry news, and more
See the top companies, universities, and more
Chart and drill into the key material, product, and process technologies
Refine your analysis by source and date

For those generally interested in generally learning about the key problems and unmet needs in this SpaceTM. Get immediate access for your team, including:
3-months of access with automatic, monthly updates as new data emerges
Accounts and access for up to 5 users on your team
Option to extend access and updates with a monthly subscription

For those interested in a more targeted view. Our team scans your publicly-available data to identify and characterize your organization's products, technologies, and more. We then customize the SpaceTM to help you quickly pinpoint opportunities most relevant to your organization. This View Includes:
Everything included in the Basic View
10-year analysis of your organization's capabilities, based on publicly-available data
Customized SpaceTM with organization-specific metrics highlighting areas of "technology fit"

If you need more support than just software and data access, let us help! In addition to the SpaceTM or team of analysts and consultants can help with:
Opportunity Identification and Synthesis. Lacking bandwidth or know-how? Leverage our analyst team to help you identify and detail potential opportunities for your organization.
Workshop and Process Facilitation. Many organizations are not practiced at systematic identification of new opportunities. We can teach you the best practices for identifying, detailing, and prioritizing opportunities as well as lead your team in putting them into action.
Custom Analysis. Need something unique? We can conduct lots of custom analyses on our data to help you achieve your objectives. Find M&A candidates. Compare yourself to competitors, and more.
1. Actionable
Spaces include data-driven insights about technologies, companies, and their unmet market needs down to specific products, services, components, companies, and more. No superficial analysis here - just detailed, actionable data-driven insight.
2. Immersive
Unlike generic market research reports, Spaces let you explore the "guts-level" data driving key trends and innovations. Drill into the details and underlying data sources, and explore hidden connections that otherwise would go unnoticed.
3. Accessible
Spaces are priced at about the cost of a market report with no required long-term commitments or user restrictions, so they are within reach of virtually any team - from startups to Fortune 500s.