Immersive Insight

into

Your

Opportunities
Today's innovators, from startups to Fortune 500's, lack effective or affordable methods to generate compelling, or actionable ideas for growth and innovation.
For the price of a market report, Aperture SpacesTM provide a customized, data-driven, and fully-explorable view of the unmet market needs you can address.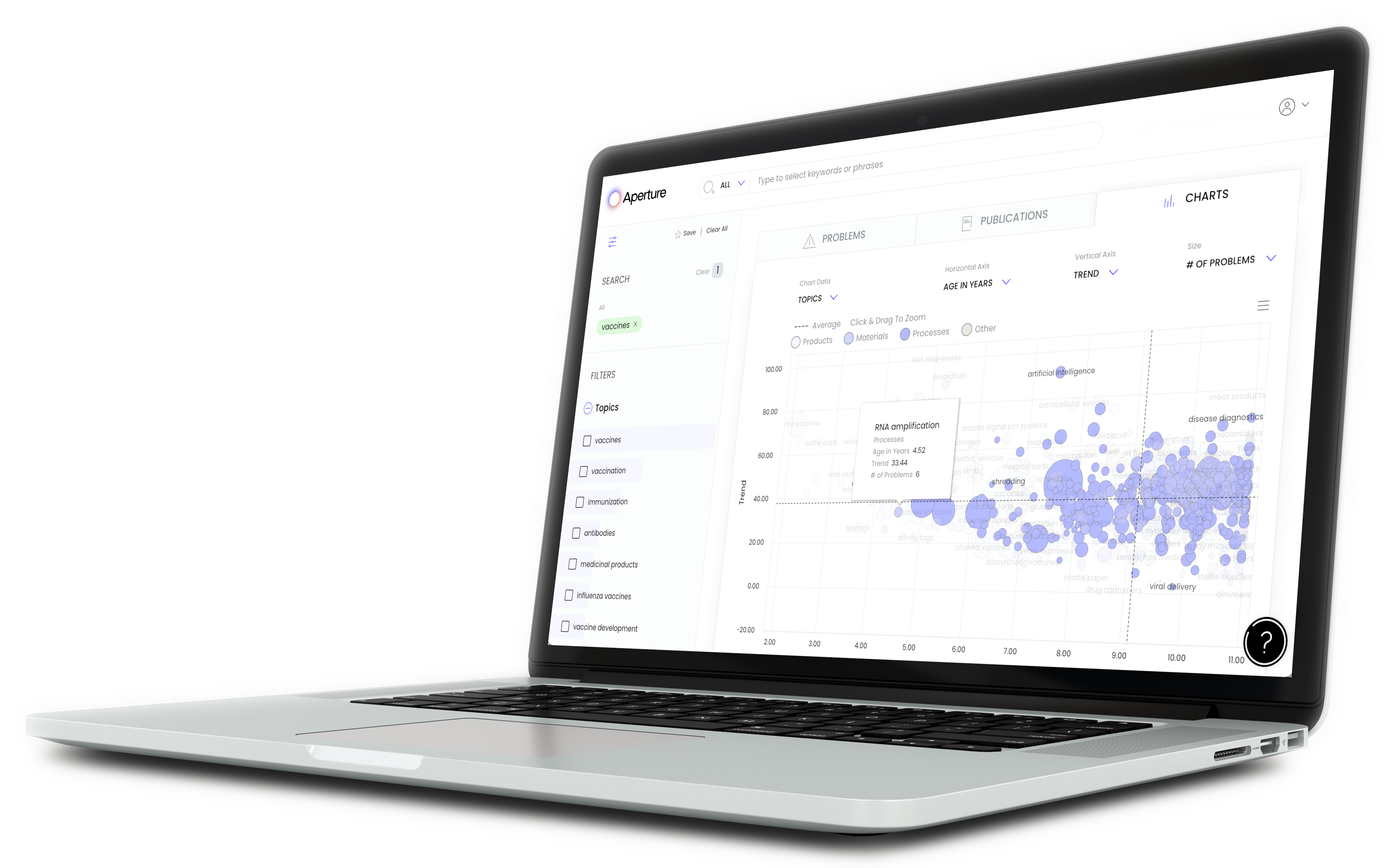 What Are SpacesTM?
Aperture SpacesTM are curated datasets covering the potential opportunities associated with specific markets or technologies, explorable in our web portal. Leveraging our InceptionTM AI platform, each SpaceTM is built by scanning >100M data sources to highlight the key details.
Customized to cover your specific markets of interest or technologies, Spaces go far beyond the superficial insights of market research reports and customer surveys. They let you drill into the details of the specific applications and problems customers are trying to address to generate tangible, specific ideas for innovation.
Dozens of markets, depending on the focus
100 - 1,000 specific applications, at the product, service, component, and material levels
Thousands of the top companies, universities, and other research institutions
1,000+ summarized profiles of specific customer problems, market needs, jobs-to-be-done, etc.
Several thousand of the top referenced publications
MAPS
Instantly Map Your Space
---
Each Space - whether focused on a market, technology, trend, etc. - includes 100's of companies, applications, and technologies in need of new solutions at the market, product, service, component, and even material level.
Instantly see which areas of the market have important and emerging needs or, as an option, those that fit best with your company's products and technologies.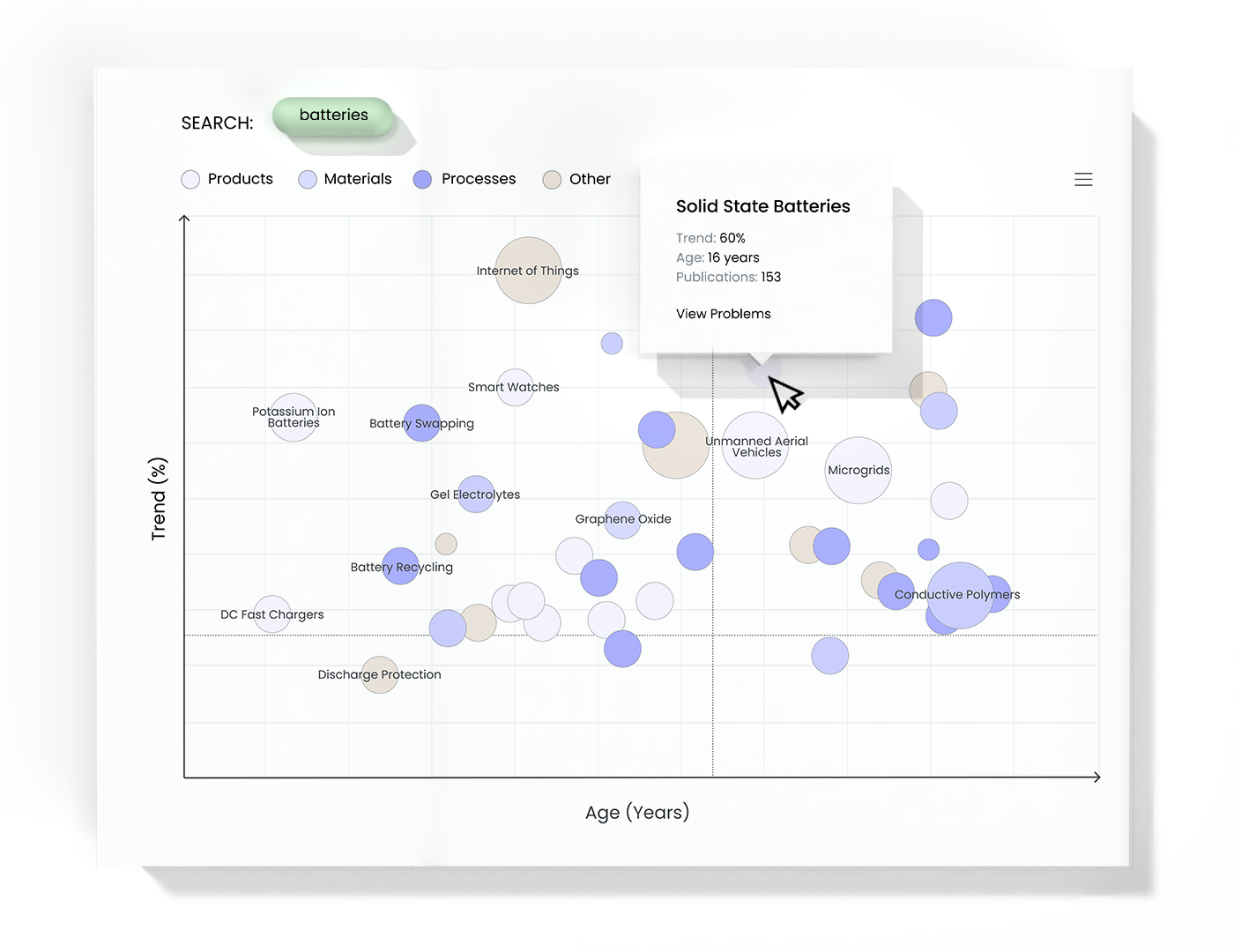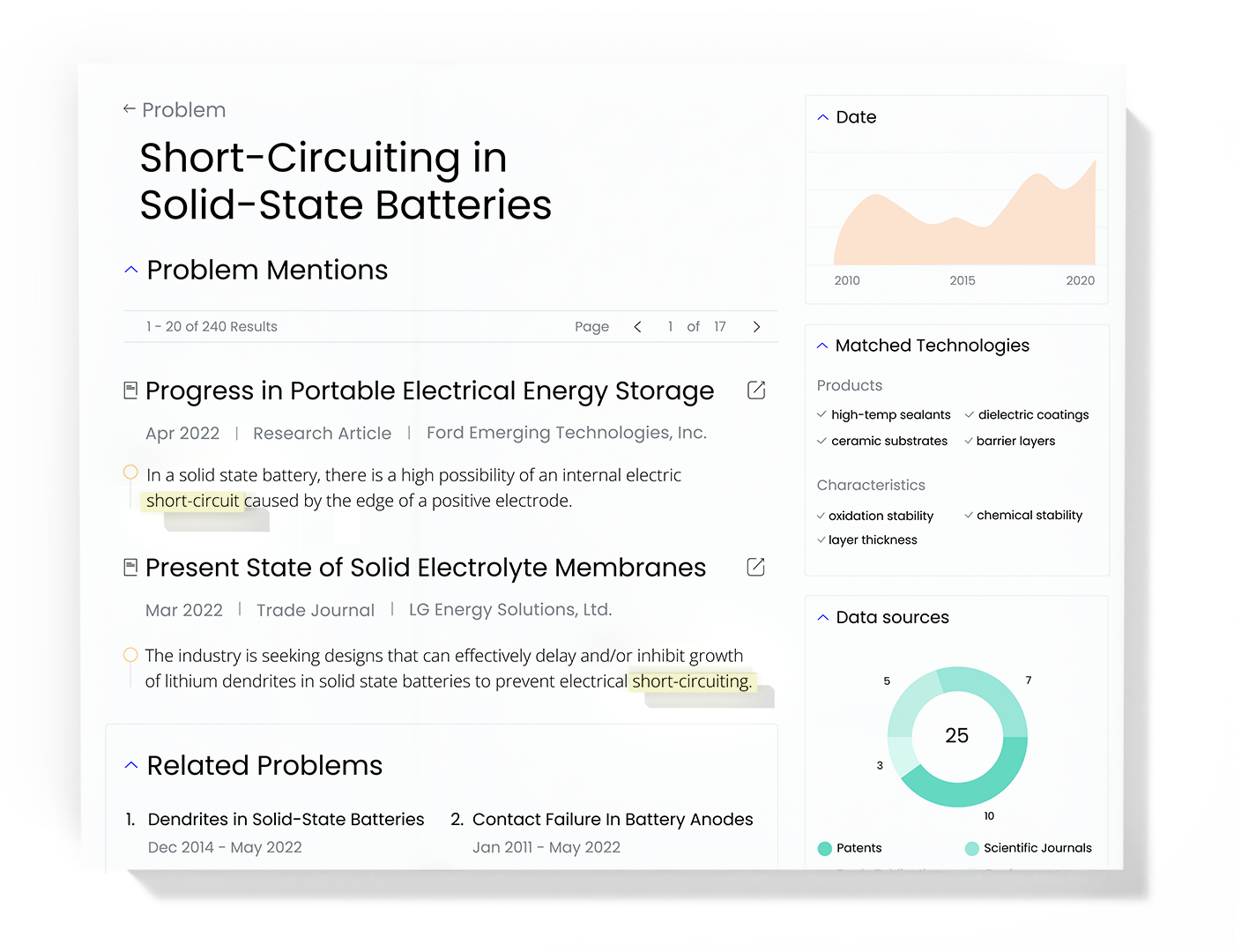 PROBLEMS
Uncover Hidden Market Needs
---
Go beyond the trend and technology level to see the specific unmet market needs and customer problems in your space. Each Space includes 1,000+ specific, important, and trending problems, surfaced and profiled for easy analysis.
Each unique problem can provide the specific inspiration your need for building new products, services, or strategies.
TECH FIT
Find Connections to Your Technologies
---
When you need to find opportunities for your specific products or technical capabilities, Aperture can pinpoint the applications and problems that you can address. See how your technologies map onto specific markets or widen the view to surface the best opportunities across all markets.
Our technology profiling process analyzes your public data footprint to customize your view based on an individual technology, or even an entire division or company.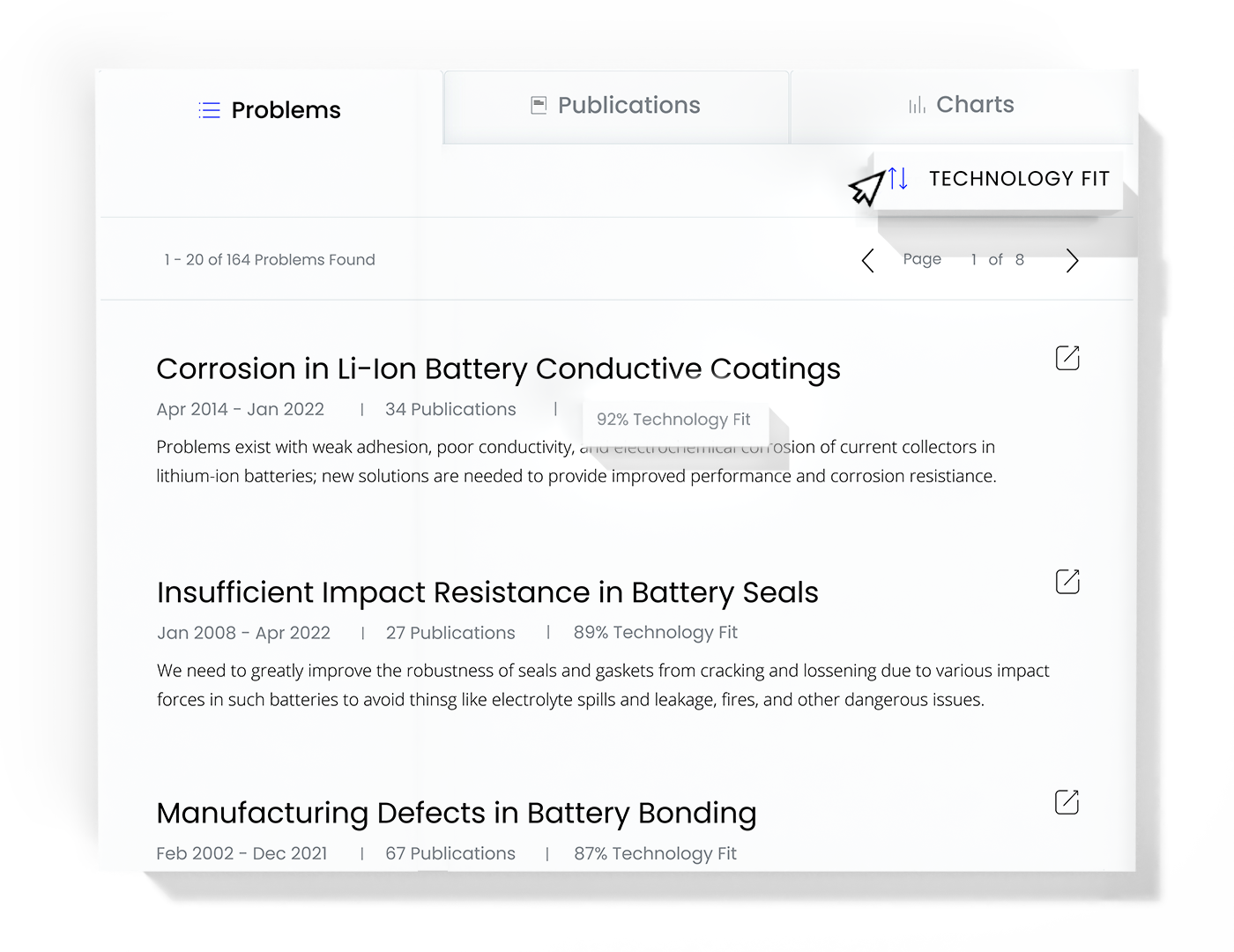 Markets
For those interested in exploring the opportunities in a specific market, trend, or technology domain without the bias of your existing capabilities.
Examples:
Emerging markets and technologies like autonomous vehicles or robotic surgery
Megatrends such as space tourism or urban mobility

Capabilities
For those with an existing product, technology, or suite of capabilities, this view focuses on the opportunities you can address across all markets.
Examples:
Adjacent opportunities for a mature family of polymer additives
New market opportunities for a novel optical sensing technology
Contact Us to Get Started
Get in touch with us to see a demo and learn how to get a Space for your technology or project. If needed, we also offer additional consulting services to help you get the most from our data.
Contact us to learn more.
1. Specific
Spaces include data-driven insights about technologies, companies, and their unmet market needs down to specific products, services, components, companies, and more. No superficial analysis here - just detailed, actionable data-driven insight.
2. Immersive
Unlike generic market research reports, Spaces let you explore the "guts-level" data driving key trends and innovations. Drill into the details and underlying data sources, and explore hidden connections that otherwise would go unnoticed.
3. Accessible
Spaces are priced at about the cost of a market report with no required long-term commitments or user restrictions, so they are within reach of virtually any team - from startups to Fortune 500s.
Sign-up for Our Newsletter